Jubilee Fund poverty simulation—a glimpse into a low-income life.
Hosting a Jubilee Fund poverty simulation is a unique and interactive way for groups of people to get a hands-on glimpse into what living on a low-income is like for Manitobans.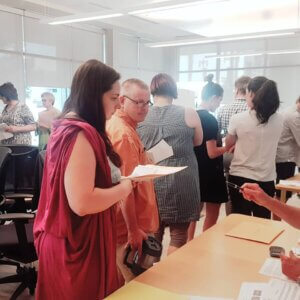 HOPE – A Poverty Simulation (HOPE stands for Homelessness, Oppression, Poverty, and Exclusion) allows students, employees, donors, volunteers and community organizations to gain a greater understanding of real challenges many Manitobans face.
During this 60-minute experiential simulation, participants assume new identities in low-income families, such as a single mom, student with an elderly dependent or a family of four.
The simulation requires them to navigate through two "months" of life that can include attending school, work, and dealing with government agencies, financial institutions and the justice system. Families try to stay financially afloat as they pay for essentials like rent, transportation and food while also juggling various unexpected challenges that can affect their finances and mental health.
The group simulation experience includes a facilitated debrief afterwards for participants to talk about what they learned and felt. In the past, many participants have shared how they became more aware of the financial and mental barriers surrounding living a low-income life.
How does it work?
Simulation, including debrief, takes about 2.5 hours.
20-40 people can participate. About 12-18 participants will be needed to act as volunteers to staff the simulated community resources.
You will need to provide a venue for the simulation with a room of at least 1,500 square feet.
It takes about 90 minutes to set up the simulation and orientate the volunteers before it begins.
$650 covers the cost of the simulation. If this is a barrier, please let us know.
Simulation can be customized with options to focus more on challenges faced by newcomers, people of colour and Indigenous people, as well as those struggling with substance abuse.
What will people learn?
A better understanding of how barriers out of a community member's control can affect their lives.
A better understanding of how simple and unforeseen life scenarios can cause marginalized community members to spiral into homelessness or a state of emotional defeat.
What are some realities of poverty?
10 per cent of Canadians live in poverty.
62 per cent of Manitoba children from single parent families live in poverty.
21 per cent of single moms in Canada live in poverty.
Racialized women earn 32 per cent less at work, and 20 per cent of racialized families live in poverty.
A single person with a disability on EIA has an income about 33 per cent below the poverty line.
Children with disabilities are twice as likely to live in household relying on social assistance.
There is an annual difference of approximately $10,000 between a fully subsidized and a unsubsidized child care spot.
If your group is interested in hosting a Jubilee Fund poverty simulation, contact us today by completing the form below and we will reach out with more information. Or if you would prefer, please contact:
Monica Dueck by email or phone 204.589.5001 ext. 2.