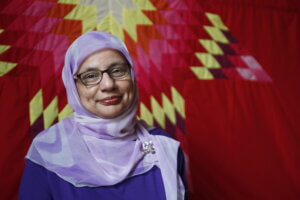 Shahina Siddiqui will be sharing on breaking barriers when it comes to different cultures and beliefs. Shahina is the co-founder of Islamic Social Services Association (ISSA) of USA and Canada and serves as the volunteer executive director of ISSA Canada. Shahina is an educator, speaker, social justice activist, freelance writer and author. She has been widely recognized for her work in anti-racism advocacy, social justice and combatting extremism and Islamophobia. Shahina is a member of the National RCMP Commissioner's Advisory Committee on Diversity as well as on the RCMP Commanding Officers' Advisory Committee on Diversity Division. She is a recipient of many local and national awards including, of the Queen Elizabeth Diamond Jubilee Medal (2013), the Canadian Red Cross Humanitarian of the Year (2016), and an Honourary Doctorate of Laws, University of Manitoba (2019). Now a grandmother of three, she continues to strive for a hate free Canada.
Q & A session & Jubilee Fund's Annual General Meeting to follow.
Light refreshments will be provided, including Tall Grass Prairie's famous cinnamon buns!
Please RSVP by April 13th using the form below. For more information, email Monica Dueck or view the Community Based Solutions 2022 Poster