Thank you for considering an impact investment with Jubilee Fund.
Impact investing with Jubilee Fund focusses on the social impact-helping reduce the effects of poverty on Manitobans. When you invest in a better Manitoba through Jubilee Fund you create financing for our social impact partners to help Manitobans affected by poverty.
Every $1 you invest through us creates an average return of $5 in social and economic value in Manitoba.
AND, in 2023, Manitoba Chamber of Commerce Members can get their investment matched up to a total of $100,000.00 by  Safety Service Manitoba!
Email Monica Sigurdson or call 204-589-5001 ext. 2 today to find out how you can become a Jubilee Fund investor!
How it works:
Jubilee Investment Certificates (JICs) are purchased by individuals or organizations for 3 or 5-year terms. The JIC funds, held by a financial institution, are used to secure non-traditional loans for our social impact partners. JICs generate 2% less interest that the posted GIC rate, but the social return is incalculable.
It's important to note that Jubilee Fund maintains a loan loss reserve to protect investors from losses. To date, no investor funds have been lost due to loan defaults.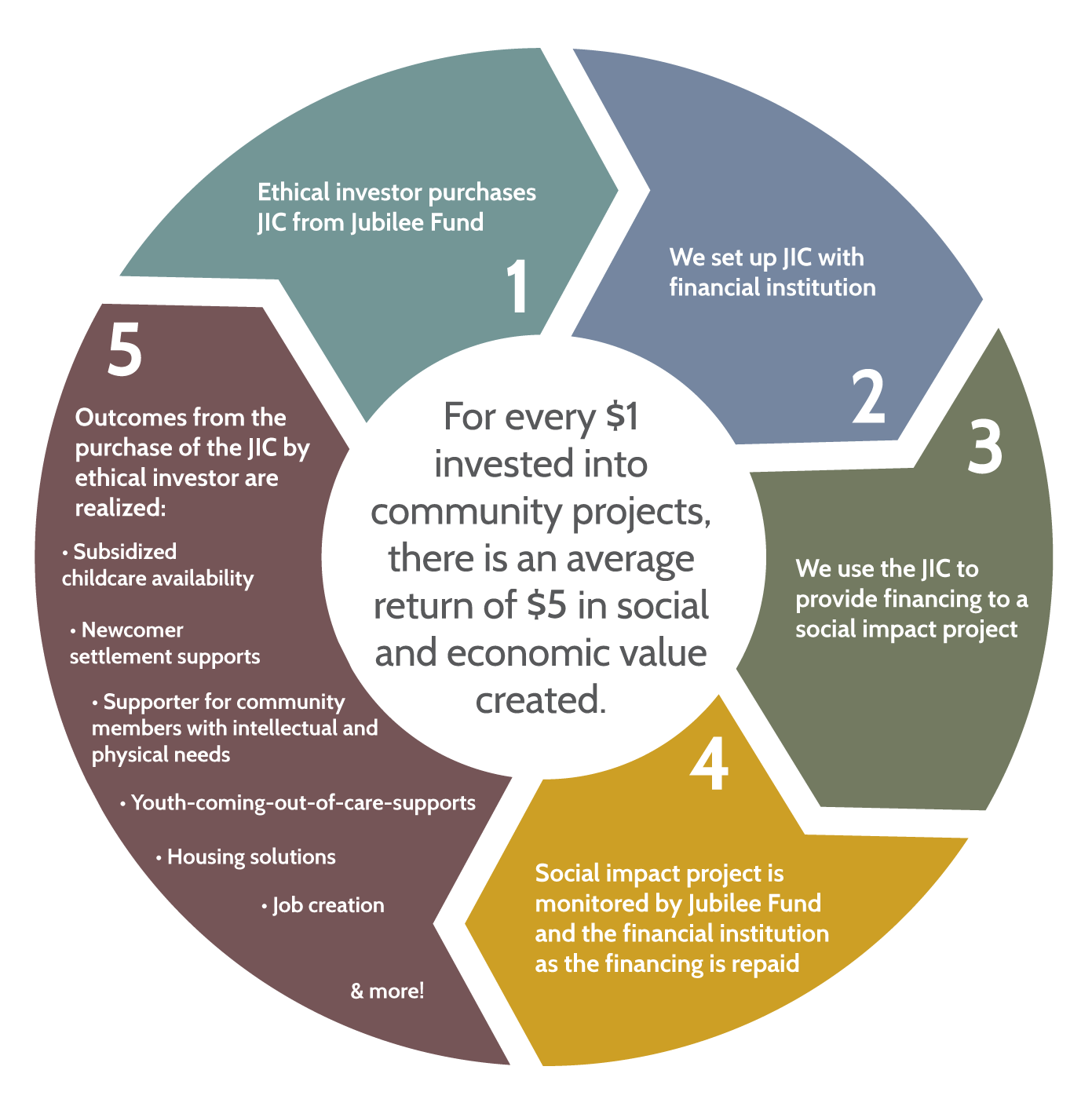 ---
Thank you to all our JIC holders for investing in Manitoba:
The Winnipeg Foundation
Agassiz Presbytery United Church of Canada
Les Oblates De Marie Immaculee Du Manitoba
MCC – Manitoba Inc.
Parish of St. Mary Magdalene Anglican Church
Provincial Administrative Sisters
Samaritan Enterprises Inc.
The Diocese of Rupert's Land
United Church – Conference of Manitoba
Centre for Christian Studies Canada Inc.
Immanuel United Church
In Memory of John Ell
Sparling United Church
St. John's Cathedral
Plus over 50 individual investors.