Come joined us for HOPE – A Poverty Simulation (HOPE stands for Homelessness, Oppression, Poverty, and Exclusion).
During this 60-minute experiential simulation, you will assume a new identity as a low-income family, such as a single mom, student with an elderly dependent or a family of four.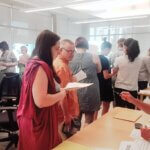 The simulation requires you to navigate through two "months" of life that can include attending school, work, and dealing with government agencies, financial institutions and the justice system. As a families, you try to stay financially afloat as you pay for essentials like rent, transportation and food while also juggling various unexpected challenges that can affect your finances and mental health.
The group simulation experience includes a facilitated debrief afterwards to talk about what you learned and felt. In the past, many participants have shared how they became more aware of the financial and mental barriers surrounding living a low-income life.
The simulation itself will take approximately one hour which will be followed by a debrief. A light supper will be provided.
The event is proudly sponsored by: