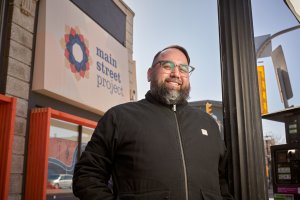 Jamil Mahmood will be sharing his experiences working on the front lines with Manitoba's most vulnerable community members. Jamil Mahmood is the Executive Director at Main Street Project. He has a wealth of knowledge and a diverse background of experiences supporting vulnerable members of our community. In the past, Jamil's worked with the Winnipeg Regional Health Authority, providing mobile outreach services, including harm reduction supplies, education, and support services to Winnipeg's most marginalized people. He graduated from the University of Winnipeg with a bachelor's degree in International Development Studies after spending two years working abroad in Pakistan and Ecuador. His education includes courses in restorative justice, intercultural competencies, and victim-offender mediation. Through all his work and experiences, Jamil has seen firsthand the importance of better outcomes when meeting people where they are at, as well as the importance of collaborating with different partners and funders to meet the needs of the community served by Main Street Project. Jamil is a passionate and tireless advocate for people experiencing mental health issues, substance abuse, and homelessness in Winnipeg.
Q & A session & Jubilee Fund's Annual General Meeting to follow.
Light refreshments will be provided, including Tall Grass Prairie's famous cinnamon buns!
Please RSVP by April 12th using the form below. For more information, email Monica Sigurdson or view the Community Based Solutions Poster 2023.