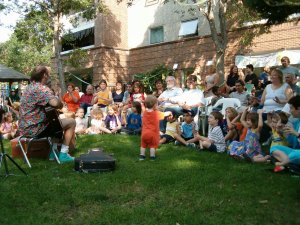 Jubilee Fund investors helped add critical, subsidized childcare spaces in Winnipeg's West End.
Cornish Child Care Centre is located in a Winnipeg Regional Housing Authority apartment block on Furby Street. It was established in 1986 and is run by an elected Board of Directors.
The centre has 35 clients, with the majority living in various Manitoba housing units in the neighbourhood. In 2004, Neighbourhood Alive approved a grant of $45,000 and The Winnipeg Foundation approved a grant of $17,000 to start construction on an addition. This was a great opportunity, giving Cornish Child Care Centre eight more spaces for three-month to two-year-old children. Prior to building the addition, they identified a great demand, as the present waiting lists contained more than 130 parents in the area needing this service.
The grant approved by Neighbourhood Alive and The Winnipeg Foundation would only cover 60 per cent of the construction costs, and Neighbourhoods Alive informed the Board that they would lose the grant if construction didn't start before their March 31, 2005 year end.
Jubilee Fund was able to quickly put a package together. With a loan guarantee made possible by Jubilee Fund investors, Cornish Child Care was able to complete construction.
Become an ethical investor with Jubilee Fund—change lives and build a better Manitoba today.