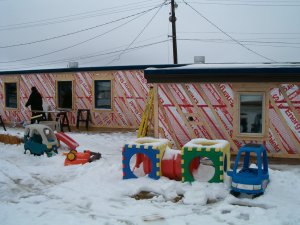 Jubilee Fund investors helped support to the Downs Childrens Centre Inc. (DCC), a non-profit providing daycare services for 50 children.
A loan guarantee made possible by Jubilee Fund investors helped DCC complete important facility upgrades and renovations to their building in 2008. They have a 1,200 square foot facility with yard space and play area for the children that is fully fenced in. It is also the only daycare in the West End of Winnipeg that has a specialized ability to teach American Sign Language. They also prepare meals at a cost of just $1 per child.
Become an ethical investor with Jubilee Fund—change lives and build a better Manitoba today.