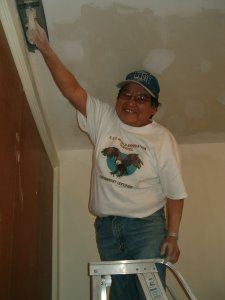 A loan guarantee made possible by Jubilee Fund investors helped start a small Manitoba business.
Gary Gillis opened GGR Mould Remediation Services in 2008. The company's primary services include removing mould from areas behind drywall, crawl spaces, floor joists and attics. Gary and his employee Gloria Young are certified in mould and asbestos removal and are trained to follow provincial guidelines for safe removal. Gary also completed the Meyers Norris Penny Self-Employment Program.
A Jubilee Fund loan guarantee was instrumental in Gary starting his business, helping him purchase tools and the special equipment needed to conduct remediation work.
Jubilee Fund staff visited with Gary and Gloria working on a house in Selkirk that had extensive mould damage. Pat, the homeowner, expressed how pleased she was with the quality of their work. They had safely removed and cleaned all the infected areas and were presently repairing the damage to the drywall and floors.
Become an ethical investor with Jubilee Fund—change lives and build a better Manitoba today.