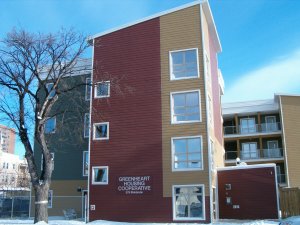 Jubilee Fund investors helped make a beautiful non-profit housing co-op possible in Winnipeg's West Broadway community.
The 21 three-bedroom apartment complex, targeted for low and modest-income tenants, was built by Kikinaw Housing and opened in 2009. The units are energy efficient, with green design choices, universal access and a community cornerstone location. Members collectively participate in operation decisions, which helps build a sense of community and minimize housing costs.
With help from Jubilee Fund, the project had access to a line of credit in support of the $2.4 million dollar investment.
Become an ethical investor with Jubilee Fund—change lives and build a better Manitoba today.