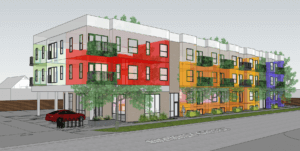 A direct loan made possible by Jubilee Fund investors helped Harriet Street Seniors Housing Inc. purchase land in Winnipeg for affordable seniors housing development.
The direct loan was the foundational first step in seeing Harriet Street Seniors Housing bring a mix of 49 1 and 2-bedroom affordable multi-residential seniors' units to the heart of Winnipeg. The new seniors housing complex is within a short distance of healthcare and other amenities. The project came with letters of support from the City of Winnipeg, local community and neighborhood organizations, as well as the local MP and MLAs.
"When we started looking for social finance assistance the Jubilee Fund was the first organization that came to mind," said Harriet Street project director Catherine Collins. "Their reputation in supporting affordable housing and other poverty reduction initiatives is second to none. With the funds provided we have secured the property and can now fully engage in the fundraising process to make this dream a reality for Winnipeg seniors looking for affordable housing."
With affordable seniors housing being in high demand, adding 49 new homes for Winnipeg seniors has a clear poverty reduction impact-a result that Jubilee Fund always works towards.
Become an ethical investor with Jubilee Fund—change lives and build a better Manitoba today.