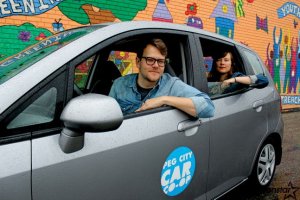 Jubilee Fund investors helped turn a big idea into a thriving new co-op business with hundreds of members.
The original board members of Peg City Car Co-op had an idea, but no credit. Grants were found to cover some of the start-up costs, but they were still short of their goal.
Jubilee Fund made up the shortfall with a loan guarantee, and in just a decade Peg City Car Co-op has gone from a few people with an idea, to a member-owned business of over 1,750 people sharing almost 60 vehicles throughout Winnipeg.
Peg City Car Co-op is now able to access credit to manage cash flow and capital costs and provide a valuable vehicle sharing service to Winnipeggers.
Become an ethical investor with Jubilee Fund—change lives and build a better Manitoba today.