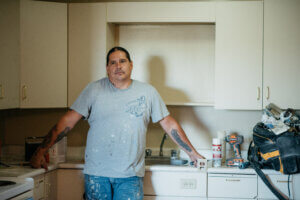 Jubilee Fund investors helped a social enterprise create some wonderful social return for Manitobans.
Purpose Construction has seen rapid growth and success as they strive to remove barriers to the labour market and help people develop skills and build a foundation to improve their lives.
A loan guarantee made possible by Jubilee Fund investors created working capital the social enterprise required to take on a contract from Manitoba Housing to refresh several Manitoba Housing units. In 2022, a loan guarantee made possible by Jubilee Fund investors helped Purpose Construction build a new 10-person siding and eavestrough division which has since then grown.
A Social Return on Investment evaluation of the Purpose Construction operation showed that, for every dollar invested in Purpose Construction, the social enterprise returns five dollars in social benefit to the workers. At the same time, this saves government money that is not spent on other support programs as people employed with Purpose Construction thrive and become self-sufficient.
Become an ethical investor with Jubilee Fund—change lives and build a better Manitoba today.