A $125,000.00 loan guarantee made possible by Jubilee Fund investors helped create affordable housing for the 2SLGBTQ+ community.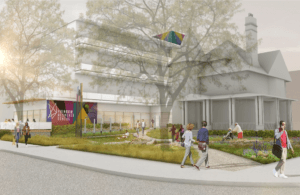 In 2022, Jubilee Fund partnered with Assiniboine Credit Union and Rainbow Resource Centre, Canada's longest running 2SLGBTQ+ resource centre. Part of a larger $1.1 million financing package arranged through Assiniboine Credit Union, the funds were used to purchase a historic property in Winnipeg's West Broadway neighborhood which saw the building on site repurposed to a new headquarters for Rainbow Resource Centre as well as the development of a 29 unit affordable seniors housing for the 2SLGBTQ+ community.
"In partnership with Westminster Housing Society, we are thrilled to build Canada's first affordable housing for 2SLGBTQ+ seniors at an iconic Winnipeg intersection and incorporate Wilson House, this historic property. It will be a central, welcoming and accessible place for the 2SLGBTQ+ community and West Broadway neighborhood," said Rainbow Resource Centre Executive Director Noreen Mian. "The financing secured thanks to The Jubilee Fund and Assiniboine Credit Union ensures we can support our vision for years to come."
"It was a privilege to be able to assist the Rainbow Resource Centre on this exciting project which will have a significant and positive impact on Winnipeg and the 2SLGBTQ+ community," said Jubilee Fund Executive Director Peter Cantelon. "Across Canada there are higher rates of homeless and housing insecurity in the 2SLGBTQ+ community, and it is wonderfully symbolic that we can announce assistance during this year's Pride month celebrations."
Across Canada the 2SLGBTQ+ community is significantly over-represented in the homeless and housing insecure demographic and this initiative will directly impact and help to remediate poverty within the community. Further to this Rainbow Resource Centre offers a myriad of educational, mental and physical health related programming geared to the 2SLGBTQ+ community and the broader population in both Winnipeg and throughout the province.
Jubilee Fund's support of this project will pay social impact dividends for years to come both directly and indirectly as jobs are created in the renovation and construction of new facilities and Rainbow Resource Centre is able to continue to grow their mandate to serve the 2SLGBTQ+ community.
Become an ethical investor with Jubilee Fund—change lives and build a better Manitoba today.