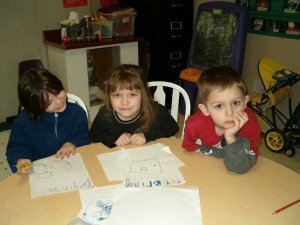 SISTARS Community Economic Development Co-op Inc. (Sisters Initiating Steps Towards a Renewed Society) was formed in October 2004 and incorporated in April 2005 by sixteen women who wanted to make a change for themselves and others in the Point Douglas neighbourhood.
Their first project was to conduct a community survey about the issues area women faced. The women sat down together to write the survey and then went door-to-door to personally interview the residents. In their survey of 225 families, most women in the area indicated they had no one to take care of the children outside of school hours. The committee felt a day care located in their neighbourhood where they could take their children would be their first priority.
Armed with the results of the survey they approached the provincial government with a five point plan to assist Point Douglas women and their families have a brighter future. It was acknowledged, in addition to having a daycare, the women needed more education and training to help them get off social assistanace and obtain better paying jobs.
The Church of the Open Door on 137 Euclid Avenue was the only location in the area to say "yes" to having the daycare operate on their premises. With perseverance and government assistance, a two year license was obtained for the daycare with spaces for forty children ranging in age from twelve weeks to twelve years (176 children were on the wait list). In addition, they were able to obtain funding to provide two years of education and two years of career training for the women to become certified childcare workers. It is envisioned that many of these women will work for SISTARS Daycare once they are certified.
Another challenge the local residents faced was decent affordable housing. A non-profit housing co-operative was formed to purchase and rent local housing to the residents that are part of the program. If the tenants after completing the program are employed and able to carry a mortgage, the house will then be sold to them.
The Jubilee approved a loan to SISTARS to purchase a house in 2007 that became part of a newly formed non-profit housing co-op. The house was sold in July, 2009 to a local resident.
In 2010, SISTARS purchased the historic Barber House which had damage from several fires that had taken place over the years. The day after their purchase was made, another fire occurred that destroyed the roof and the second storey. The volunteers at SISTARS with the help of others repaired the outside and replaced the roof, retaining is historic significance. The interior of the home was renovated and opened in 2011 with a new a SISTAR'S Daycare and Senior's Drop-In Centre.