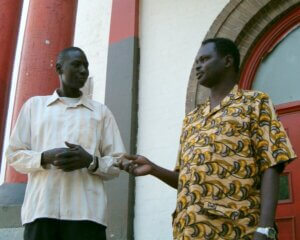 Jubilee Fund investors provide critical help that allows important community support services to stay open.
The Sudan Humanitarian Relief Organization and the Sudanese Association of Manitoba came together in 2006 to purchase a building located at 129 Dagmar Street. The building was purchased to provide support services and a safe place for the 3,000 Sudanese people who live in Manitoba.
A loan guarantee made possible by Jubilee investors allowed the South Sudanese Canadian Community Centre to remain open and continue to provide services to the community.
In 2020, Jubilee Fund provided a $5,000 emergency loan in response to COVID-19 to South Sudanese Community Centre. The health crisis hit the South Sudanese Community Centre hard. Hall rentals represented a significant portion of their monthly revenue. With health orders in place at the time; they were forced to close the hall indefinitely. The emergency loan helped offset monthly fixed costs as the Community Centre was run entirely on volunteer labour making it ineligible for Federal emergency wage subsidy programs provided at the time.
Become an ethical investor with Jubilee Fund—change lives and build a better Manitoba today.