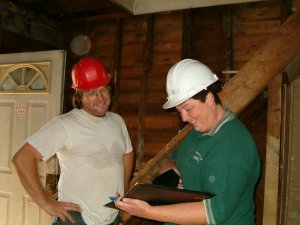 Jubilee Fund investors helped create student housing and revitalize Winnipeg's West End.
Thanks to a loan guarantee made possible by Jubilee Fund investors, Kinkora Development Ltd. was able to renovate a student housing project for University of Winnipeg students on Furby Street. The apartment block houses mainly single parents with young children, while an attached house has individual rooms for single students and newcomers. It has a common living and kitchen area with a live-in resident assistant. The apartment was built in 1925, while the city records indicate the house is over 110 years old. Both buildings are brick, with a solid foundation. However, they needed new wiring, plumbing, insulation and heating system.
The project used members from the Urban Green Team—a Province of Manitoba youth employment project for people aged 16 to 24. Because their wages are subsidized, it makes it possible to hire and train youth to work on these projects. In addition to teaching job skills, it generates employment in the community.
There is a great demand for affordable student housing in the area. Many of the students are foreign and continue their studies year-round. More than 100 students live in the area, creating a need for safe, affordable housing that this project helped meet.
Become an ethical investor with Jubilee Fund—change lives and build a better Manitoba today.