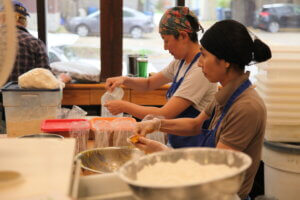 Jubilee Fund investors helped create an iconic and delicious Winnipeg institution.
Most Winnipeggers are familiar with the Tall Grass Prairie Bread Co-op story. Starting in a church basement, Tall Grass has become a beloved presence in the Wolseley neighbourhood.
They experienced quick success, but as a result they could not keep up with demand due to capacity limitations of their production equipment and the size of their working space.
A loan guarantee made possible by Jubilee Fund investors allowed Tall Grass to expand the footprint of the Wolseley store and purchase equipment needed to meet demand. Their cinnamon bun recipe made with locally sourced ingredients has not changed, but their ability to access credit to hire people and expand operations to The Forks has. Jubilee Fund is proud to have helped Tall Grass grow into the Winnipeg staple it is today.
Become an ethical investor with Jubilee Fund—change lives and build a better Manitoba today.