A $100,000.00 loan guarantee through Assiniboine Credit Union made possible by Jubilee Fund impact investors, helps make affordable transitional housing project a realty for Indigenous and newcomer women and children experiencing gender-based violence.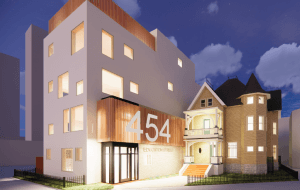 A full two-thirds of the newcomer population finds their households in core-housing need and this population is most highly represented in the Centennial/Downton district in Winnipeg. This social impact project spearheaded by UWCRC 2.0 Inc. who is tasked with a mandate to develop community housing and social infrastructure in Winnipeg's core near Central Park, will see the creation of 11 apartments with a total of 28 bedrooms capable of housing more than 36 individuals.
UWCRC 2.0 Inc. has partnered with three local service organizations to support the Indigenous and newcomer women and children who have experienced gender-based violence with wrap-around supports: Family Dynamics, Ikwe Widdjiitiwin Inc., and New Journey Housing. The social impact housing project will contribute to addressing the critical need for inner-city transitional housing.
Become an impact investor with Jubilee Fund—change lives and build a better Manitoba today.