Author: Peter Cantelon, Executive Director
The old, oft-repeated phrase "membership has its privileges" rears up from time to time in different places and in different ways but what does it really mean?
Incorporated non-profits like Jubilee Fund are membership-driven organizations. Structurally our members are the ultimate authority, as is the case with any member-driven body.
Members use that authority to elect Directors and Directors use their member-derived authority to manage the corporation. They do this sometimes by acting as a working board volunteering to enact the operational requirements of the organization alongside other volunteers.
Often directors will hire an Executive Director or CEO to act on their behalf operationally, empowered to hire additional staff who report to the Executive Director while the Executive Director or CEO reports directly to the board while they take on more of a governing board rule focused on vision and strategy.
Why am I telling you all of this? To emphasize the point that non-profits like Jubilee Fund are ultimately in the hands of its membership. While staff, volunteers and board members are critical to success it is the members of a non-profit who steer the ship.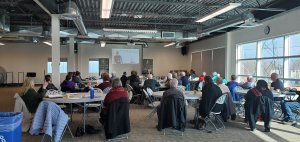 This is the value and privilege of membership – the opportunity to contribute to the direction of a worthwhile vision like alleviating poverty for example. Members exercise that privilege most directly through active participation in an AGM by attending and voting.
Members can also contribute through stepping up as a Director or other volunteer position as well.
A key sign of a healthy non-profit is a healthy membership. A membership that is communicated to and feels heard. A membership that does not fear getting involved and even offering constructive criticism at times.
An unhealthy non-profit acts to control membership levels, sometimes keeping levels low and ensuring the member's voice is stifled or lost and drowned out by staff and directors.
When this happens the organization folds in on itself and seeks vision and direction from those that are supposed to serve the vision of the membership. It gets things backwards and this often results in conflict, high turnover rates amongst board and staff and a confused approach to mission as it is pulled in multiple directions.
Ultimately a non-profit like Jubilee Fund serves best when it roots itself in the member's vision and executes that vision on their behalf. When this happens the non-profit thrives, members see a difference being made, and, most importantly, the impact on the community is greatest.