Author: Peter Cantelon, Executive Director
Poverty.
One word and you already have images in your mind. Perhaps you see World Vision commercials playing or maybe that homeless person you walk past on the way to work. Maybe you think of other countries and other people. A person's understanding and perceptions are shaped by their experience.
The Oxford dictionary is helpful only in the sense that we often struggle to define words like poverty which they call "the state of being poor". A definition like this puts us into an endless loop where we look up poor and are met with "having very little money; not having enough money for basic needs".
This is a little more helpful in that we are given something to hold onto – money. The solution then must be simple – more money equals less poverty. Build homes. Provide food. Well, yes and no. These things are incredibly important to alleviate immediate suffering but do not help with the root causes that are creating the circumstance in the first place.
A poor family living along coastal Bangladesh (80 percent of which exists on a floodplain) will not be able to affect the climate change that is increasing sea levels putting them at further risk of flooding and storm devastation. Money may allow them to move but then you create additional strife by asking a people and culture to react and uproot themselves from ancestral territory rather than grappling with the foundational issue.
In this we see that by contributing to efforts to reduce and reverse the impact of climate change has a positive effect on the economically disadvantaged. Poverty.
For decades the United Nations has been working across various cultural, economic, and political strata towards the goal of an equitable and peaceful world. Part of this work led to the UN adopting the 17 Sustainable Development Goals (SDGs). These are:
No poverty, zero hunger; good health and well-being; quality education; gender equality; clean water and sanitation; affordable and clean energy; decent work and economic growth; industry, innovation and infrastructure; reduced inequalities; sustainable cities and communities; responsible consumption and production; climate action; life below water; life on land; peace, justice and strong institutions; partnerships for the goals.
Each of these goals is inter-connected. Each of these goals, when accomplished or improved, positively impacts poverty by reducing it and/or creating conditions that make it easier to eliminate. Each of these goals has targets and associated events.
Notice the number one goal is End Poverty. There are seven targets set to achieve this goal. They are:
By 2030, eradicate extreme poverty for all people everywhere, currently measured as people living on less than $1.25 a day
By 2030, reduce at least by half the proportion of men, women and children of all ages living in poverty in all its dimensions according to national definitions
Implement nationally appropriate social protection systems and measures for all, including floors, and by 2030 achieve substantial coverage of the poor and the vulnerable
By 2030, ensure that all men and women, in particular the poor and the vulnerable, have equal rights to economic resources, as well as access to basic services, ownership and control over land and other forms of property, inheritance, natural resources, appropriate new technology and financial services, including microfinance
By 2030, build the resilience of the poor and those in vulnerable situations and reduce their exposure and vulnerability to climate-related extreme events and other economic, social and environmental shocks and disasters
1 a) Ensure significant mobilization of resources from a variety of sources, including through enhanced development cooperation, in order to provide adequate and predictable means for developing countries, in particular least developed countries, to implement programs and policies to end poverty in all its dimensions
1 b) Create sound policy frameworks at the national, regional and international levels, based on pro-poor and gender-sensitive development strategies, to support accelerated investment in poverty eradication actions
There are 159 targets and 387 events identified by the UN across all 17 SDGs being implemented with the goal of achieving them by 2030. Very ambitious.
Our world is complex and interconnected, people are complex and interconnected, and so it is no surprise that the tasks related to reduction and elimination of poverty are also complex and interconnected.
PAUSE: Complexity often tempts people to throw up their hands and give up in efforts to tackle something like poverty. "I cannot possibly make a difference" by helping out a shelter or donating to a food bank these problems are too complex.
Do not given in to this hopelessness. The point here is that you can and should continue to do what you can to alleviate the immediate needs of your neighbours and fellow human beings. Just keep an eye on the future and consider there are other, less obvious ways to contribute as well.
As we move into the future the Jubilee Fund is intentionally aligning itself with the UN's SDGs as a way to better understand and identify projects that help us achieve our vision of "a future in which equitable economic opportunities are available to all members of society".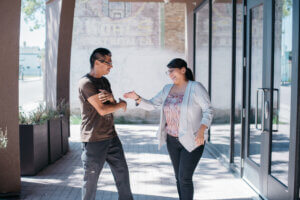 Our focus has been and continues to be offering lending assistance through loan guarantees and direct loans to organizations and people seeking to reduce and eliminate poverty. We do this by leveraging investments in our Jubilee Investment Certificates (like GICs but not GICs) and donations as well as partnerships with financial institutions, the provincial and federal government and organizations like The Winnipeg Foundation.
With your help we can impact the immediate needs of those in poverty while working toward eliminating the roots that have created the problem in the first place.