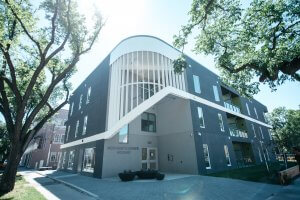 Merchants Corner is an incredible success story on Selkirk Avenue, and Jubilee Fund investors helped make it happen.
The beautiful new facility opened in 2018 as a hub for education and affordable housing in the North End. It includes 30 affordable rental housing units, with priority for students with children, and is home to the University of Winnipeg's department of urban and inner-city studies and the Community Educational Development Association's Pathways to Education program—an initiative to empower inner-city youth to graduate high school and access post-secondary education.
Bridge financing, made possible by Jubilee Fund investors and since repaid in full, allowed Merchants Corner to overcome a timing issue that threatened to leave contractors unpaid.
We are proud Jubilee Fund investors played a part in making Merchants Corner a reality and are excited to see the vitality it has added to the community and lives changed by the opportunities it provides.
Become an ethical investor with Jubilee Fund—change lives and build a better Manitoba today.